Rotating equipment division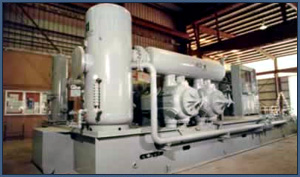 Compressors
The rotating equipment division design, custom fabrication and commissioning of compressors for the natural gas industry.
We fabricates reciprocating, screw, and centrifugal compressors driven by reciprocating engines or turbines producing packages ranging in size up to 6000 horsepower.
Engines
Packages
       * Waukesha
       * Caterpillar
       * Wartsila

       * Skid mounted packages
       * Control systems
       * Onshore and offshore service
Pump Systems
We can provide turnkey pump system solutions to transfer, injection, or pressure boosting of your process liquids. From small GPH flows in chemical injection to thousands of BPH or GPM in pipeline shipping pumps.
Pump Systems include:





- Pumps


       * Single or multistage centrifugal pumps (ANSI and API 610)
       * Reciprocating: Triplex & Quintuplex
       * Positive Displacement: screw or gear
       * Chemical injection - for a wide range of flows & pressures



- Process Components


       * Heat Exchangers - for cooling and heating; liquid/liquid or gas/liquid
       * Process vessels - from ASME code or atmospheric storage
       * Solids removal devices - Centrifuges, Hydrocyclones, Media filters



- Drivers


       * Electric Motors
       * Reciprocating Gas/Diesel engines - with fuel systems
       * Turbine drivers with lube & fuel systems
       * Speed reducer or increaser gear set