Project management & engineering division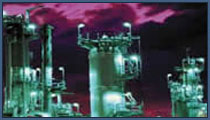 We are multi-disciplined project management and engineering design company offering high quality totally integrated services from process definition and front-end conceptual studies through to plant commissioning and operating support.
We provide a full range of Engineering, Procurement and Construction Management services.
PROCESS DEPARTMENT
The Process Department provides experienced Process Engineers capable of undertaking all aspects of process design within the Petrochemical, Chemical and Batch processing industries.
Services include:

       * Conceptual Design
       * Feasibility Studies
       * Expansion Studies
       * De-bottlenecking

       * Process Flow Diagrams (PFD's)
       * Process and Instrument Diagrams (P&ID's)
       * Project Design Safety
       * HAZOP
       * Detailed Design
       * Design Reviews.
       * Equipment Specification.
       * Commissioning
PROJECT DEPARTMENT
The Projects Department is to co-ordinate and manage the multi-discipline projects undertaken by the company.

The company can provide experienced Project Managers and Engineers.

Project personnel are able to provide experience, expertise and support to a wide range of projects from minor assignments to multi-million complete plant installations.

In addition, the Department is also able to provide Project Management, Project Engineering or Site Management services to Clients who undertake their own discipline engineering or require assistance in controlling the interface management and co-ordination of several contractors and sub-contractors.
MECHANICAL DEPARTMENT
Mechanical Department activities include the design layout, specification and detailing of process plants, operating equipment and associated buildings and services from concept to installation.

The Department plays a key role within the company for both support to multi-disciplined projects and the control and development of stand alone engineering designs.

Design activities can be carried out both in-house or on site, to suit

clients' specific requirements. Design work is carried out on AutoCAD and 3D PDS and PDMS modeling.

Interfacing closely with clients, all work is developed and detailed in accordance with agreed project specifications/standards and quality assurance procedures.
PDMS 3D CAD SYSTEMS
PDMS is the world's most successful 3D plant design software and has a proven track record on the largest and most demanding onshore and offshore construction projects in the world.

Our PDMS personnel has over 15 years experience using the world's most widely acknowledged and most successful 3D Plant Design System.
Our PDMS staff have the tools and ability to produce intelligent 3 dimensional CAD Models for the Chemical and Process Industry.
We are also able to customise the PDMS suite to the individual needs of our clients.

The ability to visualise the design brings enormous benefits in designer productivity and the overall design quality. All project deliverables are generated from a single fully intelligent model. The results are accurate, first time, every time.

In live project use, these systems have consistently enabled dramatic savings in cost and time compared with traditional CAD methods. These savings can halve the design time and deduct 15 per cent of the total project cost thus dramatically increasing efficiency and reducing costs throughout the project from conceptual design through to fabrication, operation, maintenance and decommissioning.
PIPING DEPARTMENT
Piping Department consist of the following personnel :


* Piping Material Engineers
* Piping Stress Analysis Engineers
* Designers
* Cad Operators/ Draughtsmen

Piping Material Engineers are responsible to do piping material selection and piping specification.

Pipe stress analysis engineers experienced with the CAESAR II, Simflex and Auto Pipe stress analysis software. This is regularly used in conjunction with the ASME Design Codes.

All aspects of pipe work design can be carried out by the Piping Designers, PDMS Designer and Cad operators. This includes Site Surveys, Pipe work and Equipment Layout Feasibility Studies. Detailed design, produced manually or by using AutoCAD with CAD Pipe Isometric Package. Detail Supports and Support Schedules.
CIVIL AND STRUCTURAL DEPARTMENT
Civil & Structural Department has personnel's with many years of experience in the Petro Chemical, Process and Offshore Platform.



The following services are provided by the Civil & Structural Department:


* Feasibility Studies, including access and lifting studies etc.
* Outline Design, Construction Estimates
* Structural to international codes and client standard
* CAD Structural General Arrangement drawings
* Civil and Structural Specifications
* Bills of quantity and other Tender Documentation
* Technical appraisal of Tenders
* Review of suppliers submissions and drawings for specification compliance

Site Supervision and progress monitoring
INSTRUMENT AND ELECTRICAL DEPARTMENT
The following documents are produced by the Department:


* P&I Diagrams
* Instrument Index/Summaries
* Single Line Diagrams
* Specification/Data Sheets
* Schematics: Motor starters, Trace heating etc.
* Loop Diagrams
* Earthing: Power Systems, Static and Lightning Protection
* Specifications for trace heating
* Lighting Design and Calculation
* Process, Pneumatic Hook-ups
* Connection Diagrams
* Data Sheets for MCC, Motor, Transformers, V.S Drives etc.
* Specifications for MCC, Switchgear,Transformers, Motors etc.
* Calculations: Cable, Lighting, Floodlighting etc.
* Instrument Calculations for Flow, Valve, Cable etc.
* Switchgear Protection
* PLC, SCADA and DCS Systems Design and Software (if required by customer)
* Schedules: Cable, Label, Equipment etc.
* Trip and Alarm systems
* Heating and Ventilation Systems (Power & Control)
* Electrical Supply and Earthing including I.S
* Control panels local, remote, control room etc.
* Area Classification Documents
* Fire Alarm Equipment
* Communication/Tele- communication Systems
* Location and Cable Routing.