Process systems division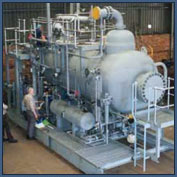 The company provides process solutions for Oil & Gas Production and Installation & Service support in connection with development, installation and operation of oil & gas fields onshore and offshore.

The company provides specialised products and services through design engineering of new systems as well as maintenance and modification of existing systems.

The division designs, manufactures and supplies both individual process equipment and complete turnkey plants.

Our process expertise combined with exclusive, long term partnerships with industry leaders and technologies in heat and mass transfer equipment, allows us to service customers' needs across a broad range of process equipment requirements


GAS TREATMENTS
Our Separators / Gas Scrubbing provides a comprehensive range of custom engineered separators, filters and coalescers designed to remove liquids and solids from a gas stream.


Products include :
       * Baffle Plates
       * Vane Separators, for liquids removal.
       * Filter Separators, for the highest degree of
          liquids and solids removal.
       * Multi-cyclone scrubbers. For less stringent solids and liquids removal applications.
       * Process Skids – we can either offer our own process design, or work to flow sheets
          supplied by the Contractor / End User.
A typical example:
       * 3 phase separator
       * Glycol dehydration skids
       * Gas metering skids
       * Process Internals

Each set of internals is individually designed to meet the specified process conditions. We provide process internals for 2-phase and 3-phase gravity separators and gas scrubbers.




The basis of design includes:



       * Specification of vessel dimensions
       * Location and sizing of process nozzles
       * Internals selection
       * Internals configuration


      

* Process & Mechanical guarantees
Detailed items typically include:
       * Cyclone


      

* Baffle Plate(s)


      

* Coalescer


      

* Cyclone Inlet Device

       * Desanding System


      

* Distributor Plate


      

* Mesh Pad


      

* Multicyclone Scrubbers

       * Vane Demister


      

* Vane Type Inlet Device


      

* Vortex Breakers


      

* Weir Plate